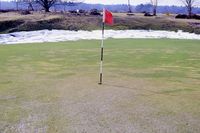 Here's a new one for all you greenkeepers in England. What are you expecting to find once the snow cover melts on your greens? Unless you are managing a course in the highlands of Scotland it is unlikely that the majority of you have seen snow cover on your course last this long before.
Although your courses and in particular your greens have had a rest, it does not follow that your playing surfaces are going to appear from the snow in better shape than when they went under its blanket. Most of the UK's golf courses have been under snow or frozen solid since before Christmas, with most having a continuous cover of snow for eight days and counting. Some in Scotland have been under snow for over 25 days so far, while others have more than 30 cm of snow cover.
While I know that this is nothing compared to the northern States of America and Northern Europe, where they have snow and worst still ice cover for in excess of 120 days, it is still a problem that many greenkeepers will not have encountered before. As to be forewarned is to be forearmed I thought I might raise a few things for you to consider while you ski!
What you had before will decide what you have got now
A lot of what you will find will depend on what condition you greens were in before the frosts arrived. If you have free draining surfaces with good soil air things will be much better than if you had water in the upper rootzone profile or worst still surface water. If you have bent/fescue you are going to be in better shape than if you have Creeping Bent, and as ever if you have Annual Meadow Grass you are going to be the worst off. Poa annua is particularly susceptible to Microdochium Nivale, which may manifest itself as Pink Snow Mould or just plain old Fuzz to you and I. Grey Snow Mould (Typhula incarnata) is far less likely to show up as it requires a much longer snow cover period however don't rule it out.
Now if when your snow cover melts away you find a mottled cover of disease ridden Poa annua, firstly check that you are on the right course, travel in the snow is very disorientating, then do nothing, well not just yet anyway. Firstly you want the frost to have completely left the rootzone and secondly any contact fungicide you might be considering won't function very well on a fungal pathogen that may have run its course. Of course systemic fungicides are useless applied to a plant that's metabolic system is dormant.
It depends how it melts
Beside any disease that you may find it will be how the snow melts that will be the main issue. The ideal is a long steady thaw that allows the melt water to run away from the surfaces, if you have greens with hollows or are situated in dips then ponding will be a problem until the frost leaves the ground. This may also be compounded by rainfall during the thaw. Snow melt followed by cold northerly or easterly winds, or snow clearance by these winds leaving exposed turf is the not a good situation as wind scorch and desiccation will be the result. The worst scenario is a rapid thaw followed by a sudden freeze. This weather process exposes the leaf blade and plant crown, saturates it in water, and then freezes the tissue rupturing the cells leading to disease infection or plant death.
Of course it is not all doom and gloom and every course will have a differing thaw experience. In fact most courses will have a differing thaw from area to area depending on green location. Greens sitting in shade (which will also have a higher Poa annua content), or exposed to the winds will be the hardest hit. Whatever your situation just be aware of the possible results and be prepared and ready to deal with the likely outcomes.
Letting the members out of the Cabin
Whatever the weather leaves you with the hardest problem to deal with will be a fractious membership suffering from cabin fever! Have your plan worked out in advance, carryout course inspections daily and let them know of your findings, informing them of timings for any opening for play, reduced, temporary or otherwise. Don't let them out until the ground conditions are right. Golden rule; never play on greens with a thawed top 10mm to 20mm and a frozen lower rootzone. You, and they, will cause more damage than any snow cover has.