So you want to be a Golf Course Manager?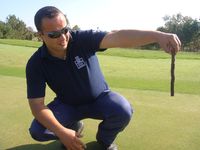 Yes it is becoming increasingly difficult to get a golf course manager's job however there is good news, career minded eager to learn Greenkeepers are always be in demand.
I cannot guarantee you a Course Manager or course superintendents' job via this blog article, what I can do though is provide you with a route map toward your end goal. I will also impart some of the experiences, both good and bad, that I made along my career route.
Continue reading "18 Steps to becoming a Golf Course Manager/Golf Course Superintendant" »