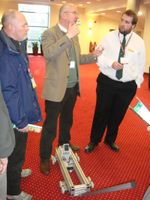 They are off and trundling again. Yes Messers Windows and Bechelet of the STRI are once again promoting their Trueness meter. I reviewed this machine during Harrogate Week at the start of this year, and I hate to be smug, but I was right. It is far too expensive for the regular members golf club to purchase.
I quote from an article in, this industry's most informed magazine, Pitchcare. "At present, it (Trueness Metre) does have its limitations because it only measures the smoothness/trueness of the greens at a single point in time and, at present, it is beyond the resources of most clubs to purchase one. Maybe in ten years it will be a standard assessment tool available to everyone".
So as I said in my review last January, and I also quote, "We have seen many a machine like this before, we have had turf thumpers, rootzone resistance probes and wear simulators that are all gathering dust in a shed in Yorkshire somewhere".
When are the R&A going start funding well throughout 'sustainable' research projects, that deliver usable, practical solutions to golf course management problems. Who knows what their investment level in this machine is, but I wish they would spend the money on stopping the golf ball flying so far instead.
God alone knows how far the ball will be flying, how softly it will be landing, and how much fescue/bent will be left to play on in ten years time! In the meantime it is still the greenkeepers who will find the best solution.
I am sorry but I am going to have to spell it out. To all those at the STRI and the R&A, who have never run a golf course maintenance operation before, what greenkeepers and their golf clubs would benefit most from is:
1) Research that starts with the provider not the end user (this will stop the tail wagging the dog!)
2) Research that has a practical, easily adapted with a usable outcome
3) Research that has a conclusion of any type
4) Research that does not conclude in the blindly obvious to those at the 'coal face'. We do not need a machine measuring at tolerances that a NASA engineer would be proud of, to tell us that our Poa annua is causing ball bobble!
5) Research that has its starting point in the bottom half of your 'sustainability ladder', not the top half. As this is where the majority of this countries golf greens dwell.
Well someone, who is independent, should say something about this nonsensical waste of money, time and worst of all intelligence.