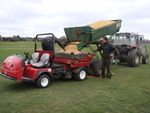 I have no doubt that most greenkeeping teams this side of the equator will have completed a spring renovation operation on their greens ready for the season ahead.
Most clubs in the UK now seem to have a 'maintenance week' set aside to accommodate major works to greens in spring and autumn.

This is true at Buckinghamshire Golf Club and Course Manager Simon Graham and his team undertook his programme in a dry warm week at the end of March (pure luck!).
Without getting into the whys and wherefores of the various elements of the operation at this stage, I have decided to give a pictorial representation of the operation. I would be delighted if anyone viewing this post make comment on the works. Maybe you have a different way of going about this type of course maintenance or maybe you are a member of the 'Disturbance Theory and would not carry out this work at all, or at this time of year. Feel free to post your views in the comments box below this article.
1 Procore hollow tining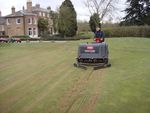 2 Core harvesting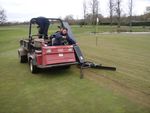 3 Overseeding using velvet bent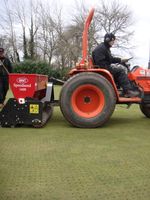 4 Application of ThatchEater product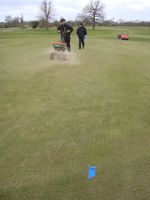 5 Kiln dried pure sand topdressing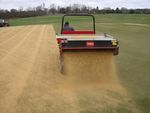 6 Working in dressing by brushing
7 Finished surface