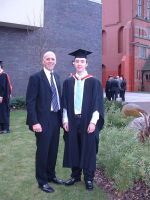 I owe today post to a BIGGA member, (who I would like to credit but had better leave anonymous as I have never spoken to him), who was basically asking is there any point of becoming educated to a high level in soil science and plant biology, when greenkeepers with a just grasp of the fundamentals are promoted to course management roles by people who don't know the industry. (I think he was aiming at the golf club management or officials).
He asks "is it all down to image or personality i.e. style over content, or is this current trend evolutionary and the weak will fall?"
Of course this sort of thing happens in may industries and it is not just a "current trend".
It's not how good you are it's how good you want to be.
This is the title of a small paperback by a guy called Paul Arden. He's a marketing guru but his book is full of motivational stuff about achieving, and that is what this post is really about.
We need a balance of skills to manage well, (and I would suggest that man management is at least equal to technical knowledge) however it is our own goals and drivers that get us to where we want to be.
"Your vision of where or who you want to be is the greatest asset you have" P.Arden
If gaining a technical degree or management & leadership skills is your thing, great, go for it. Just be prepared to do battle with the guy who is just a very good at Course Manager because he has natural talent, is a good communicator, possess a strong personality and is driven to get the job you want!