BTME Harrogate Product Review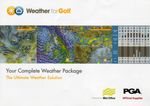 I passed Weather for Golf's stand with a casual glance over my shoulder, "are you interested in the weather sir" asked the booth's occupier. "I'm British aren't I " I joked. "Then you will be" came the retort.
"I don't have much time for your lot as you let me down in 1987 during the Suntory World Match-play at The Wentworth Club" Me bare a grudge, no. I though I would make this a tough sell. "I think you will find that was the BBC's fault sir". I was confused, so I got a lesson in weather forecasting for golf courses and the role of the Met Office. 
Continue reading "Weather to spray or not to spray that is the question" »