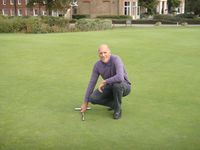 I started KMgc because I felt that there was a real need for everyone who works within the golf golf industry to fully understands the implications of differing greenkeeping practices and how it can have a direct impact on the bottom line profit of any golf operation.
I am able to help facilitate the operational change that is required to achieve a Golf Club/Business goals.
I have managed commercial businesses and golf course maintenance operations over a 30 year period,including Buckinghamshire Golf Club, The Wentworth Club, Royal Dornoch Golf Club, and ,John Jacobs Golf Associates.
I am well placed to provide golf clubs and greenkeepers with balanced advice on the commercial impact of agronomic policies.
As an element of my service I provide a mentoring service to Course Managers/Head Greenkeepers who I hope will enjoy the benefit of my experience.
I can provide immediate and impartial advice that can rapidly assist a greenkeeper or course manager progress their management problems/issues and thus their courses condition, leading ultimately to profitability and harmony within their respective clubs.