So you want to be a Golf Course Manager?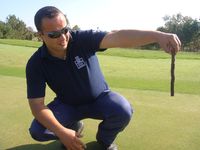 Yes it is becoming increasingly difficult to get a golf course manager's job however there is good news, career minded eager to learn Greenkeepers are always be in demand.
I cannot guarantee you a Course Manager or course superintendents' job via this blog article, what I can do though is provide you with a route map toward your end goal. I will also impart some of the experiences, both good and bad, that I made along my career route.
(Course Planner)
Ambition
Support
Learning
Communication
Golf Skills
Career Path
Organisational Skills
Course Policy
Resource Management
Budgeting
Negotiation
Getting that job
Market place
Networking
Curriculum Vitae
Interview ability
Implementation
Review
FRONT NINE
1. Ambition Without this you cannot begin your journey so, if you haven't already, get some. How do you become ambitious? Well it maybe something that was sparked during your upbringing or you acquired via the 'hands on' experience of life. Ambition can be gained out of either a positive or a negative situation. For example, you may have enjoyed playing golf and wanted to make a career out of it. Alternatively you may not have achieved at school and, as a late developer, have now discovered your niche. This was certainly me when aged sixteen my Dad read out a job description for an Apprentice greenkeeper in the local paper and said "do this job and then build me a golf course". So by all means be as ambitious as you like, but don't let ambition dictate your pace, and don't ram that ambition down people's throats.
2. Support You are not going to make it on your own, you are going to need the support of your family, loved ones, friends, peers, colleagues, educators, bosses and employers, to name an important few. Let people you trust know of your career plans and they will help you with advice, experience, knowledge and introductions. You will also need their support when you up sticks and move to the next role along your career path.
3. Learning Before you can take that first step to being the boss there are a large number of course maintenance related topics that you will have to obtain a fair amount of understanding of. This knowledge will be learnt by practical 'on-the-job' application, formal college education, and your continued professional development through the BIGGA/GCSAA and other management workshops and courses. The great news is that learning has never been so in-depth, available and accessible to greenkeepers. What you should be aiming at is a well rounded knowledge of the many practical and technical aspects of the role. But note this, for all you prepare in advance you will gain the most learning once you have obtained your first Course Managers position.
4. Communication I could easily have listed this as step 1, as you have to start sharing what you want to achieve straight away.  We do not all start out as good communicators; indeed many of us enter into greenkeeping because we don't need to spend all day communicating. We are not natural sales people or marketers, it is something we develop as we grow and mature at in our professional lives. In my experience all the awkward, difficult and stressful situations I have found myself in have been caused by miss-communication or non-communication. Remember that good communicators are 'influencers', your main aim as a manager will be to bring your influence to the decision making process and ultimately a satisfactory end result. Some may call this getting your own way but 'better to get your own way than get in the way'. Just be aware of your 'two-way' communication skill levels and make sure you improve both enough so that your message is clearly received and understood without harm or offence.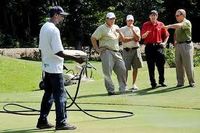 Successful influencers have a strong vision that they back up with measurable, achievable delivery targets that form the basis for well constructed business/operational plans. So do you see yourself as an influencer? If not you will have to be content with being a passive doer.
 5. Golf Skills This may surprise a few but you must be able to play the game to a handicap. Do you think you are going to persuade your employers of your aims for their playing surfaces and course set-up if you don't understand the skills and nuances of the game? So if you don't play get some lessons and get out there now, or be prepared to be behind the gain line at interview, if you are lucky enough to get one!
6. Career Path You may think that this should be listed earlier in these steps. There are (I hope) young greenkeepers out there who already have their hearts (and heads) set on running a championship course. It may be to stay at your first course and devote your working life to its success, or you may be on the first rung to St Wentingdale G&CC.  I think through experience, that you cannot truly set your course management career path in place until you make that first step into the role. Ambition and your career path are closely linked however do not allow ambition to dominate your career direction totally.  Aged twenty-six I had ambitions to become the Links Superintendent on an Open Championship course, to ensure I gained the necessary skills and contacts I made my career moves in line with this aim. At twenty nine I got distracted by a role that proved to me that all that glitters is not gold so mid-career moved into golf course construction and design, and then into club management. So your career climb needs to be flexible because there are many branches to this career tree. Things change in a career, you, bosses, family and life, so make sure you have a flexible path that still satisfies you and don't let that path run into a dead-end.
7. Organisational Skills These are vital, as simple as that. I presume that you are reading this because you are already on a career path, maybe you are already a First Assistant or Deputy supervising a team. If so it is most likely that you are doing this because it has been recognised that you are organised. So keep going, stay organised and plan, use day-to-day organisational tools such as diaries and project note books, as well as learning IT software packages and mobile technology skills that help you plan, record and report.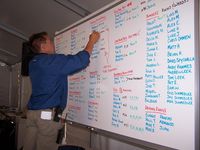 8. Course Policy Now we are getting into the nitty gritty of the job role. This is one of the subjects that all the Deputies on our 'Continue To Learn' workshops want to know about and get their hands on. This document encapsulates the golf course manager's role and more or less writes their job description/specification. To make the move up you should know what is in a golf course management policy document, if you don't get your Course Manager/Superintendant to show you one. When you have read it ask lots of questions about how it is formed and why it is there. They should be telling you that its main purpose is to identify the strategy needed to achieve the quality objectives set out in the club/business mission statement, and then identify the processes needed to achieve these aims.  Your golf course management policy document should be the foundation on which the management of your course is built.
9. Resource Management If these 18 steps were golf holes this would be stroke index 1. This one topic covers everything a manager is ever asked to control. Manpower, Machinery, Materials and all of those require the forth 'M', Money. Get this right and you will succeed as a Course Manager. Contained within the four 'M's your operational management will include Health & Safety, Environmental Management, Power, Water, Irrigation and after all this, in case you forget, the provision of a golf course that provides customer satisfaction. To control the delivery of these three resource elements within the constraints of the fourth requires good management skills above all else. Of course you have to know when and why you are applying all of this resource, but if you don't have the structure, systems and controls in place your agronomic knowledge and skill will be rendered useless, you will  be neither efficient or attain your objectives.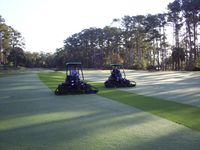 Now you have walked the first nine of the Course Management Career Planner take some time out at the half way hut to work out whether you are under or over par. Then note what you are going to do to improve your front nine and be ready to take on the all important career back nine.
BACK NINE
10. Budgeting For many this is often the most boring hole on the course and thus the one that receives the least concentration – a real card wrecker. Budgeting is a great discipline for any manager. If you carefully plan and build your budgets you can make them work in your favour, making your aims easier to achieve. If you can draw up a management policy for your golf course and quantify the resources needed to execute this policy, you have all the information you need to draw up a budget. Obviously you will need to look at all the small detail to ensure you get your annual expenditure fully quoted and priced, but this is, comparatively, the easy bit. As with the policy document, look at as much golf course budget information as you can from your boss or the club's financial controller. Once you see a comprehensively detailed spreadsheet showing the main budget headline costs and their respective sub-division line items all will become much clearer. Of course these will just be figures you still have to be able to demonstrate control and the ability to find savings when asked.
11. Negotiation You will need to develop good negotiation skills, not just for purchasing purposes, but also for man management situations, dealing with bosses/committees and of course getting the salary package that you feel you justify. You will need to toughen up. Business is business, all the rest is social interaction that makes the world go around. I like to think that a better term for negotiation is being persuasive, as with influencing when communicating you should be persuasive in negotiation. Whether coming to an "agreement" with your partner or getting the kids to bed you negotiate all the time in life. We all develop our own set of persuasive skills to "win" what we want, however the best negotiations end in 'win-win' situations where both parties walk away feeling that they benefited from the agreed deal. As with all management preparation is the key, ensure you have a list of salient fact base points backed up by sound 'persuasive' arguments. Know the lower limit of your 'gain' position and don't be afraid to walk away if that 'gain' is not achieved. There is no substitute for experience in negotiation situations. When a person with money and little experience meets a person with little money but lots of experience, the first person ends up with experience and the second person ends up with money. The 'second' people are usually your bosses and sales representatives.
12. Getting That Job "Too much competition", "jobs being filled internally without advertising", "I don't have the skill set for the type of course", "no private club or proprietary business experience", "I have never been a Course Manager", "I lack interview experience", "my spouse/family does not want to move". These are just some of the obstacles identified by prospective Course Managers during the BIGGA's   'Continue to Learn' workshops. So you are not alone, you have to overcome these obstacles by process of elimination. Whatever the barriers are, reduce them. By the way, I am not suggesting you leave your spouse!  Make a sideways move if necessary to gain specific experience. If you hear of a vacant position be proactive, submit a CV and explain why you would be a good choice, don't wait for an advertisement. The main trait that will overcome these hurdles is confidence, a lot of the perceived obstacles above are born out of a lack of confidence in your ability. The more experience, knowledge and skills that you gain the more confident in your abilities you will be, there is no escaping this fact. It is the person who is fully prepared, persuasive, determined and goal focused that gets the job. All the things that a good Course Manager/Superintendant should be anyway then!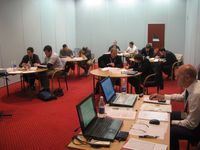 13. Marketplace This is included because if you are going to move up in your career you have to know the market you are in. Do your research and look for jobs in the marketplace that fit your skill set. If you feel the marketplace is crowded for certain course management roles, be prepared to go for a job that you may find less appealing but also has less competition. It is about getting that first manager's role that sets you on your way. Aim at clubs that might be looking for new ideas and enthusiasm, find out what their problems are and formulate plans to help them. Most of all make sure you are 'marketable' and are able to meet the prospective job's specification.
14. Networking Get yourself out there in the industry, get to know course managers, club managers, professionals, consultants, Association officials and staff, trade members and peers. Get yourself known (professionally!) on social media such as Facebook, LinkedIn and Twitter. Get on greenkeeping and turf management forums and 'turf clubs'. It is often not what, but who you know. Aged 20 I was the secretary of the BB&O section and ended up on the steering committee for the formation of BIGGA, all things that got me noticed. At least two of my major career moves were facilitated because of personal recommendation from industry professionals. I didn't see these relationships as networking at the time but there is little doubt they could be described as such.
15. Curriculum Vitae A CV won't get you a job but it can get you that all important interview. Firstly it needs to be read and that means it must be engaging. Make sure yours is professional, up to date with no time gaps, succinct, and get it proofread by someone who can spell. There is so much information on the internet on how to prepare a CV and plenty of seminars from BIGGA too, so there are no excuses. A CV equals a professional profile, so make sure it presents you in the best possible light. 

Break down your CV into the following sections:
Personal details – Name, address, age, marital status, contact details
Profile – Brief summary of experience, character and suitability
Key Skills/Achievements – Eg agronomy, people, quality, presentation, IT
Key Characteristics – Enthusiasm, motivation, leadership, organisation, resilience
Career Summary – From today back to the start of your career
Career Detail – Key achievements in each role
Interests – Professional and recreational
Getting an interview is dependent on the quality of your CV so do not fall at the first hurdle with a mediocre representation of yourself.
16. Interview Ability A good handshake, smart appearance, eye contact and a quiet but assured confidence works every time. I know this because I have been in many interviews on the employer's side of the table so I know what engages me. Note all of this 'information' is gained before a question has even been asked, so first impressions do count. If you are short on interview experience practice with someone with experience, carrying out role-play is the only way you are going to ready yourself for the real situation. Yes there will be the dynamics of the interview room to deal with as well as those 'killer questions', so get yourself prepared and be well versed in your answers. This means researching your prospective employer, you want to find out the following:
-          Club information
-          Type of business
-          Type of course
-          Future aims
-          Staff levels
-          Membership numbers
-          Financial position
-          Course condition
-          Resources
One unforgivable mistake I've seen repeatedly at interview is the candidate not walking or playing the course. What sort of interest in your prospective employers' club do you think this demonstrates? So again this is about preparation and research. 
17. Implementation At the end of it all, once you have a Course Managers job, you are employed to implement. Using the resources at your disposal you have to implement your plans within budget and in line with the agreed course management policy. In other words you have to deliver on all of the skills and knowledge you have gained in steps one to sixteen. It is one thing finally getting a Course Managers job but it is through efficient implementation that you will keep it.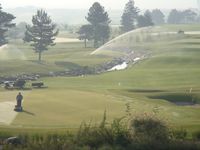 18. Review Lastly reflection. You should review all of the implemented plans and work, checking progress, learning, benchmarking and adjusting accordingly. This review does not just apply to the work produced by your staff and yourself, but of your progress as a manager and the progress of your chosen career. You will often find that you need more learning sometimes you may find that you have made the wrong move, or that you need to test yourself in a more demanding role. A review will ensure your career as a Golf Course Manager stays on course.
Now check your card and if you haven't pared all 18 practice harder.  I wish you the best of luck and look forward to seeing and hearing of your progression in the golf course industry.