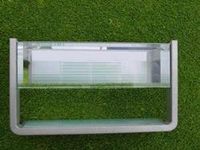 After over a dozen articles on the subject, more than 200 thread posts, and in excess of 22,000 Forum page views, the issue of mowing greens as low as 2mm, on a continuous basis throughout the growing season, came to a head at the BIGGA's BTME currently being staged in Harrogate.
Since Ealing Golf Club's Course Manager Greg Evans went to press with this radical concept, I have not been slow in making my opinion known on this subject. So like everyone else in the 220 plus throng, who attended at 08.00 yesterday morning, I have been eagerly looking forward to this debate for sometime.
The BIGGA had assembled a panel of expertise representing differing golf course management regimes offering diverse playing conditions, as well as expert opinion from a golf course architect and the STRI. For the sake of brevity I won't list them, except to say that courses from the municipal to the exclusive, the traditional to the new build, the highly commercial to private membership were all represented.
This panel discussed their various management regimes focusing on heights of cut and Stimpmeter readings. The group seemed to concur that average green speeds in all the speed bands, from 'slow' to 'fast', had increased by one foot in the last 30 years. With the average summer regular membership speed being around 9 feet and fast 'tournament' speeds being over 10.5 feet.
Most seemed to concur that the soundest route to higher green speeds was via providing firm true surfaces. Once these elements are achieved using techniques such as frequent sandy topdressings and rolling will gain pace without lower the height of cut.
Greg Evans' justification for his mowing regime is based on two requirements, neither agronomic! The first is to do with the playing challenge, or lack of it, that his course offers. The second he says, is driven by customer demand, his members want very fast greens. As Ealing is a short course by even 1960's standards and the greens are, as he describes them "mainly flat", he wants them fast all the time offering more of a golfing challenge and providing some defence against very low scoring.
Now I am going to deliberately ignore all the agronomic arguments for not mowing greens at 2mm as they are well documented and will be further discussed by others. No I am going to cut what I feel is the real reason for this radical and irresponsible approach to managing a golf course. I do believe that Greg truly wants to make Ealing's greens tougher to putt on however this is driven by his own desire to play on super-fast greens along with the low handicap members of his club, who must hold political sway at Ealing. All being supported by his, ex-tour pro Ricky Willison (a real nice guy who I used to know very well by the way).
What Greg and Ealing GC have created for themselves is a commercial advantage, a unique selling point, namely: consistently the fastest greens in the South, may be even, in the country? And if the figures on membership and visitor golf are to be believed then their USP is working. Nothing wrong with USP's as long as they constantly meet customer expectations. Now this is the rub, how long can they keep this up before the Poa annua bites them in the balance sheet?
For me the biggest problem with Greg's approach and it's high profile promotion is not about agronomics, playability or course design, it is that Ealing's customer expectations may fast become the customer expectations of others. As memberships, committees, club pros and managers discuss this low-mow approach, it will mean that many other golf course managers will have to answer why Ealing's USP should not be their clubs USP. Be ready with your answers as it is already happening!