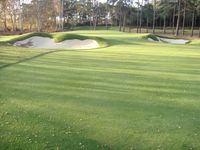 In the latest edition of Greenkeeper International its Editor, Scott MacCallum, poses the question of whether golf courses in the UK should have a system of national protection, the equivalent of a Listed Building status. Good question Scott.
Scott's ponderings are bourn out of the fact that The Wentworth club have closed the West Course, (Burma Road course for those who remember such days) dug up and re-countered the greens and bunker complexes, and re-turfed them with pure colonial bents.
Is this, in its small way, a crime against golfing history? Should the architectural work, (and I use that word very loosely in most of the following cases) of such golf design luminaries as Colt, Vardon, Taylor & Braid be under the protection of some agency.
Is their design work recognised as of national value in the same way, as say Wren, Lutyens or Brunel's work is? My thinking is that this would be difficult, as many of our early course 'designs' were actually layouts, or even just rudimentary routing plans. Many just evolved, like the oldest of all, the Old course at St Andrews.
Actually this one is well protected by the Links Management Trust. Lets face it if someone tried to take a 360 degree excavator to the 18th green on the Old, I am sure the bugger would be shot by an R&A member before he could tell them he was sent by Doug Saunders! Come to think of it are they not changing the Road Hole within the next year, hum, tweaking or spoiling a national treasure?
This is where protectionist thinking for golf courses does not stand up, most of our old beauties have been altered, changed, added to, and in some cases, re modelled over the years. Add to this nature's natural progression, the Old course at Sunningdale is a forest compared to when Willy Park Jnr laid it out through open heathland, and you don't have that much originality to preserve.
On the other hand there is definitely a case for finding a way to stop club captains and committees from meddling in something they are not qualified to do. The design crimes against golf courses inflicted by this band of amateurs are legion.
At least Mr Richard Caring (what an appropriate name), the owner of The Wentworth Club, employed an architectural practice (Ernie Els design), assembled a team of consultants and employed a very experienced golf course construction contractor (M J Abbott) to undertake the redesign.
This said, things could have been very different, and I think this is what Scott is getting at, if Mr Caring did not have a feel for the game of golf just imagine what could have happened to the West course. Thankfully most of our golf courses are owned by either memberships who care, or owners who have a vested financial interest not to what to mess things up.
As far as I am aware we do not have any courses in this county with bunkers shaped like the head of Mickey Mouse! The biggest thing that could be done to protect our treasured, and much enjoyed old courses is to stop the ball flying so far.
For me, watching Alvaro Quiros smashing a drive over all the hazards within a 320yard radius of him, is like watching a demolition contractor taking a wrecking ball to the dome of St Paul's.