Well I never. The message about the differing playing qualities of traditional links golf and America's penchant for target style golf may just be getting though.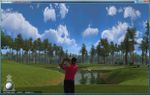 In an article written up on Fastcompany's web site, Craig Evans the Director of Marketing for EA Games (Electronic Arts), the creators of the Tiger Woods game franchise, commenting on their 'Tiger Woods PGA Tour Online' stated;

"We are taking community feedback and making sure we have something that players want to play on an ongoing basis." He shared one example, "When we first put St. Andrews up we got several complaints that the grass wasn't mowed properly--that it was more like an American course."

Wasn't mowed properly may not be the correct agronomic term for tight, firm fescue dominated lies, but hey let's not be picky, someone out there in virtual land actually knows the difference!
So EA took note and immediately corrected the course (if only it was that easy in real world land!). Apparently the games on-line Beta's version has 50,000 on-line players who have racked up over 130,000 thousand rounds of golf. Now that does worry me a little, I hope these same people play the game for real.
Now I am not sure that the artists and programmers at EA Games know how the ball reacts off of genuine links turf, and whether the games software allows the 'dunt and run' shot. (Maybe if it was the Lee Trevino or Seve Ballesteros game it might). However it is nice to see that the virtual golfer is somewhat discerning about where they play the game and that not all playing surfaces are the same.
Oh and as a footnote on the customer feedback EA received, one Mr Keith Munro, vice president of Global Marketing for the franchise, commented, "There's a definite sharing of best practices".
Best practices! It could almost have come out of the mouth of the R&A's Steve Issacs, lets hope for all our sakes that EA Games is not 'Best course for Golf'