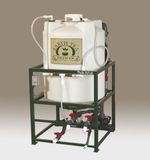 Do Compost teas have a place in golf green maintenance?
There is undoubtedly a growing interest in this country in 'growing your own' and it is spreading to golf clubs, I am not talking about vegetables though, no I am talking about beneficial micro-organisms, The life in the soil that provides life on this planet.
I have been asked a lot lately what I think about their part in management of golf greens, so here is where I am at on the subject of bug life.