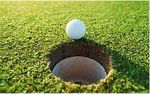 Pitchcare's cleverly juxtaposed articles in last months magazine on heights of cut for golf greens inspired me to rustle up some views on the topic from within the greenkeeping profession.
Hence I posted a thread on the subject of the Windows/Bechelet versus Evans approach to mowing heights for greens on the BIGGA's Open forum to see what the mood was out there at the 'coal face'.
Well the thread has had over 20,000 'views' to date, making it by far the most popular thread ever. I guess that the two articles were also the most thumbed pages in Pitchcare last month as well.
This goes to show that green speeds are the single most emotive topic in golf course maintenance and rightly so, after all, the whole reason for playing the game, and thus having a Greenstaff, is to put your ball into the hole in as few strokes as possible.
Having got this overwhelming response, I thought that I would keep the ball rolling!
Blue Sky or How high!
Firstly I would like to comment on one element from each of last month's articles. While the STRI's article was pure common sense, built around the age-old disturbance theory, it was couched in 'blue sky' terms that are unrealistic in most practical applications. A statement like "To favour the development of browntop bents and fine fescues in golf greens you simply have to set the correct environmental conditions" is far to simplistic. There is nothing 'simple' in setting environmental conditions, even those under our control, and establishing bent/fescue dominant swards is very tough, achievable but tough. I am also a realist and believe that the Disturbance Theory only works if you already have a bent/fescue sward that does not need 'fixing'.
On the other hand Greg Evans' article worries me greatly, this is because it gives entirely the wrong message to club members. The approach to 'protecting' a short course is to have your greens at tournament level Stimpmeter readings for as long as possible, is in my opinion irresponsible.
While I admire Greg for sharing his views with everyone, and being brave enough to talk openly about an approach that other course managers may well be operating, I still consider his article dangerous in the hands of the unqualified! While I support the efforts of this magazine, I hope not too many club committee officials, or the low handicap 'keep 'em fast brigade' get to read Pitchcare.

The quick and the dead
The 'low mow' approach to gaining pace has been around since the early seventies. In 1984 I started at Hankley Common Golf Club and started mowing the greens every day; a first. Then I started cutting at 3/16" (4.5mm) all summer and for the Open Regional qualifier in 1985 lowered the height of cut to 1/8" (3.5mm) for the whole week of the event. While the greens were faster and truer from that moment on I probably started the decline of the fescue content in the greens. In those days if you cut your greens at 1/8" for more than one week it was seen as poor greenkeeping practice. Shouldn't it still be?
Of course you can get good pace out of a Fescue/bent green at a higher height of cut than you can from an Annual meadow grass green. In the late eighties, for the World-Match Play Championship, I cut the greens on the West course at Wentworth three times a day and rolled them with a turf iron as well each day in October, so I am not unfamiliar with the low mowing of Poa annua to gain speed. By the way we never got them over 11 on the Stimpmetre and 10.5 was the norm. Is that all! I can hear Course Managers saying, and those that have are part of the 'need for speed' syndrome. Unfortunately fast Stimpmetre readings have gained bragging rights within the profession, badges of honour, marks of skill, however they reflect neither.
The difference between tournament preparation for green speed and what Greg Evans is carrying out is vast. His club does have other options, Ealing Golf Club can try to improve species composition for a more stable and more importantly predictable future. I knew that I was going to pay for it with diseased and dead Poa and poor grass cover all winter. Not something I would have recommended to my club if I had a choice. With a pure Poa annua sward and a televised tournament at both ends of the season there is little hope of establishing anything other than the old enemy! Greg Evans, and more importantly any other Course Managers who consistently cut their greens below 3mm, have other options than the one that will undoubtedly lead to stress and disease in the plant and heaven forbid in them as well.
After all are they not digging the greens up on the West this May due to poor surface consistency? A change to colonial bent is on the way I understand, must be something in it!
Value your liberty
As a brief aside while on the subject of Poa annua and it's ability to adapt. Greg is taking advantage of Poa annua's ability to adapt its growth habits to cope with close mowing. There is no other grass in the world that can do this so quickly and no other grass that can do it below 2mm. Now a word of warning on this, besides all the usual problems with cultural stress causing disease/anthracnose etc, I have seen a lot of sub perennial type Poa plants that are subject to consistent close mowing, adapt themselves into very short, very fine leaf forms that have an almost clump like appearance. These plant types also have next to no root and can be easily lifted out of the turf. All I say is that if you take liberties with Annual Meadow Grass it will take liberties with you.
Don't measure speed, measure practices
As a metre the Stimpmetre just tells us what is fast, medium and slow, not that many relate a speed to the term when they say "my greens are like lighting". So what is fast and more importantly what is a sustainable height of cut that will please the majority of your membership throughout the playing season? Again these questions are not easily answered, as a 'Stimp' reading of 9 may be great for most memberships while others will want 11 all summer. The best use for the Stimpmetre is as a management tool for recording green speeds using differing cultural practices. Monitor speed variations when using groomers, light sand dressings, turf iron operations, changing irrigation rates and lighter fertiliser applications, as these will all help to keep your height of cut up while maintaining pace. Also use the environmental factors of wind and sun to gain pace while maintaining more leaf blade on the plant.
So is 3mm, 3.5 or 4mm the right height for regular summer mowing? Mowing height figures are always banded about by greenkeepers, again, at times, with an element of 'beat that'. In reality when it comes to pace they mean nothing, as species composition is the main dictator of consistent pace.
In isolation your height of cut is a subjective measurement, as all the other maintenance practices that you undertake on your greens will also have a bearing on their pace. So make them the starting point for consistent pace and not height of cut.
What is your job?
If it is the Keeper of the Green then you should be very aware of the next section of this article.
Greens are a part of the course for two very important reasons; one, they are the ultimate target and two they contain the ultimate target.
As such they are the only playing surfaces on the golf course that have to provide two separate playing qualities. Greens provide the only element of the game that requires the ball to stay in constant contact with the turf while in motion, while also having to 'receive' the final lofted club shot. This duel performance requirement contains the 'rub' when it comes to greenkeeping or keeping greens. Greens have to, and should, repel the poorly stuck approach shot and favour the shot struck with back spin, while also running true and fast when used for putting. So I feel that when deciding on a long-term management approach for greens that provides these two elements to the golfer we should ask three questions:
1) What is the best grass sward composition that provides these two important elements?
2) What are the most favourable maintenance regimes that maintain these grasses?
3) What medium should these desired grasses be grown in?
Of course it isn't just that simple, but what grass or grasses were you thinking of when asked these three basic questions? I bet Poa annua grown in local soils didn't jump right in there as your first thoughts. This is because they are not suitable, sustainable, easily managed, cost effective or fun to work with. Plus they do not provide naturally resilient targets or offer natural pace.

So surely it is the Greenkeeper's job to provide the grass species, and where possible the growing medium that will provide this natural pace and resilience. Cutting Poa annua at 2mm is not going to get you there, but then neither is implementing the Disturbance Theory if all you have is Poa and 'push ups', and that is still the majority in this country.
The management of Green speed is a balancing act, so act on balance
I believe that it is of course, as ever, a balancing act between what is acceptable speed and consistent sustainable conditioning. So, whom do you believe? In my opinion the STRI's pair have penned the most agronomically sound and responsible article. However, if you are not blessed with a fine stretch of sandy dune land or heather covered acres, do not expect their "Nice dream" to become a reality. As for Greg Evans' approach of mowing at 2mm for as long as practically possible; brave and fast, but then so were the Light Brigade.