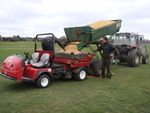 I have no doubt that most greenkeeping teams this side of the equator will have completed a spring renovation operation on their greens ready for the season ahead.
Most clubs in the UK now seem to have a 'maintenance week' set aside to accommodate major works to greens in spring and autumn.

This is true at Buckinghamshire Golf Club and Course Manager Simon Graham and his team undertook his programme in a dry warm week at the end of March (pure luck!).
Continue reading "Spring Greens renovation programme (pictorial)" »