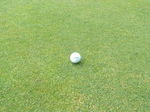 Should they be disturbing?
Oh I just could not let this one pass! I have just read Pitchcare's cleverly juxtaposed articles on mowing heights for golf greens.
They have got Richard Windows and Henry Bechelet of the STRI to give their views on mowing regimes in relation to the Disturbance Theory then followed it with an article by Greg Evans, the Course Manager at Ealing Golf Club (near London), in which he advocates maintaining greens at 2mm!
Journalistic genius? Well this sort of contra opinion on what is basically the management of green speed, is a delight for someone like me, and no doubt will be of interest to all golf course managers around the globe.