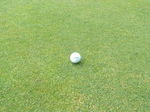 Should they be disturbing?
Oh I just could not let this one pass! I have just read Pitchcare's cleverly juxtaposed articles on mowing heights for golf greens.
They have got Richard Windows and Henry Bechelet of the STRI to give their views on mowing regimes in relation to the Disturbance Theory then followed it with an article by Greg Evans, the Course Manager at Ealing Golf Club (near London), in which he advocates maintaining greens at 2mm!
Journalistic genius? Well this sort of contra opinion on what is basically the management of green speed, is a delight for someone like me, and no doubt will be of interest to all golf course managers around the globe.
At the risk of taking the information in the articles out of context I will try to summarise the key statements from both, however I recommend you read them both to get the full picture. Well this is where I hope to come in, as you won't get the full picture even after reading them, why? Well, because you probably don't know Ealing Golf Club so will not be able to judge the mowing regime in relation to the STRI's duo's idyll.
Messers Windows and Bechelet opening paragraph is entitled "Nice dream" and in this they paint a 'Blue Sky' picture of what it is like in the perfect bent/fescue dominated golf green world. Very nice but unfortunately there are not many of these Utopian golf challenges around. They say, and I quote "To favour the development of browntop bents and fine fescues in golf greens you simply have to set the correct environmental conditions". Any of you managers outer ever found setting environmental conditions simple?
They then list four criteria required to achieve these favourable conditions.
Now here's the rub. Ealing golf club, and many like them on heavy clay soils around our major conurbations don't have the correct environmental conditions. Ealing's greens are 'push ups' using local soils not suitable for greens construction today. Admittedly they may well have a good depth of sandy topdressing on them by now but the surrounding clay parkland soils favour annual meadow grass, and this is their green sward composition.
I challenge messers Windows and Bechelet to carryout a full species conversion over to bent/fescue at Ealing, Sudbury, West Middlesex, or any other Middlesex club they would like to try.
Mind you Ealing's greens will always be Poa annua as long as Greg Evans continually cuts them at 2mm. In Pitchcare's preamble to Greg's article they state that he has been maintaining his greens at 2mm for the last six years. I presume that this is not literal and that 2 mm is his long-term summer height of cut. Anyway even if this is the case, (of the cool season grasses) only Annual Meadow grass is going to put up with that.
Greg does list his aeration, topdressing and verticutting programmes but does not state what his target grass species is, so we can only presume that Annual meadow grass is the accepted surface for Ealing Golf Club. Nothing wrong with this, if it is the club's course management policy, and I hope it is, because if it isn't Greg's actions are nothing short of negligent.
I accept that how Greg Evans manages his golf course is between him and his club but, as his article is in the public domain, I cannot accept that it is right. This 'low mow' regime can only lead to greater agronomic problems, with physical and environment stress leading to pest and disease attack and increasing operational costs. In fact I am going to go as far as to say that his article is irresponsible and so is his greens management.
This article in the wrong hands would make it very tough for a lot of managers who do not subscribe to this low mow approach to gaining pace. I can just hear it now at a committee meeting up the road somewhere in the London Boroughs 'If Ealing have fast putting surfaces in the summer why can't we have them that quick?' Some poor Course Manager is then going to have to explain why he has been trying to keep his heights of cut up to manage for the long term.
So, whom do you believe? I my opinion the STRI's pair have penned the most agronomically sound and responsible article, well it would be wouldn't it! However, if you are not blessed with a fine stretch of sandy dune land or heather covered acres, do not expect their "Nice dream" to become a reality.