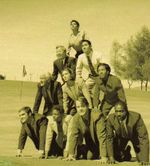 A new way for golf course managers to communicate world wide
Today I launched RootZone as a free worldwide online community network for golf course managers and I don't mind telling you that I am very excited about it too.


Why? Well for three reasons.
One, I love golf greenkeeping and course maintenance and want to see golf course management become as professional as is possible. Two, I strongly believe that communication is the key to success in life, love and business (I guarantee you will be liked if you join RootZone but I cannot ensure love!) and Three, team effort and community spirit achieves far more than individual endeavour.
I have long felt (the past 25 years!) that the senior members of the greenkeeping profession could achieve far more out of regular (daily, weekly, monthly) peer communication. However, in the main, the communication tools to achieve this, with a feeling of community spirit, have not been available until now.
Why not bounce an idea off of a fellow professional, ask for straight up advice, share a technique or learning experience and get worldwide peer group feedback. It can only be to the benefit of one and all.
So if you are a professional Golf Course Manager, Golf Course Superintendent, Links Supervisor or Head Greenkeeper and you want to be apart of a worldwide network of equally minded peers, please feel free to join RootZone.
Just click here to go to Rootzone (The link is also permanently in Bold in the left column) to enter the network's home, and be an important part of an exciting and stimulating new golf course management community.