BTME Harrogate Product Review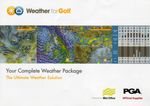 I passed Weather for Golf's stand with a casual glance over my shoulder, "are you interested in the weather sir" asked the booth's occupier. "I'm British aren't I " I joked. "Then you will be" came the retort.
"I don't have much time for your lot as you let me down in 1987 during the Suntory World Match-play at The Wentworth Club" Me bare a grudge, no. I though I would make this a tough sell. "I think you will find that was the BBC's fault sir". I was confused, so I got a lesson in weather forecasting for golf courses and the role of the Met Office. 
In broad terms the Met Office supply three levels of service to paying customers.
1)      Is for organisations who's lives depend on it MOD, Emergency services and shipping
2)      Organisations who operations affect the masses and their profitability like the power and utility companies
    3)      For customers who's own customers demand it, like the TV stations e.g. the            BBC
Hence the third rate forecasting that the BBC broadcast on 15th October 1987!
So if like me you see the personality weather men/women as the meteorologists it appears we are wrong, they may be just a glossy front.
Anyway the Met office where commissioned to develop a very accurate localised weather forecasting system for the MOD to aid military operations in Afghanistan. Having implemented this accurate system they wanted to sell it into the commercial world and so Nick Roberts as taken it on. They have no web address that I could find so here is his contact number 01843 863831.
From the demo I was shown I could see great potential in this forecasting system, as you are able to run forecast projections just 15 minutes ahead, 3 hours ahead or longer. This would allow maintenance operations such a spraying to be undertaken or rescheduled potentially saving on expensive lost applications. It may also have a benefit to club operations, certainly at tournament times. If you are at one of the higher end clubs I can see it being put to cost effective use.
It cost around £350 per year and is on an annual subscription basis. They are looking for clubs to trial the system for free up to March.