BTME Harrogate Product Review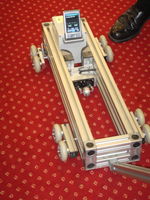 How often have you said that your greens were both firm and true? How do you quantify these statements, what are the scientific measurements that you use to back up these statements?
Well of course you don't have any. You know because you have spent the past number of years gaining the art, (knowledge and skills) to provide your club with these key elements that make good greens into great surfaces.
At Harrogate Week the STRI demonstrated their machine for measuring trueness, a machine that is going to be a part of their armoury for setting more benchmarks.
There will be an impact machine to measure firmness and a stop/ultra slow motion camera device to record ball turf impact/contact, which will tell us the effects on backspin (and I guess topspin) on differing sward surfaces.
Unless you are one of the very wealthy clubs you won't be buying this equipment yourselves, and you won't be qualified to interpret the results anyway, so you will have to hire the STRI to carry out the tests.
Nothing wrong with this, you may well use the STRI as your agronomic advisor's already, which is good because they will be able to tell you weather their own advice is working!
We have seen many a machine like this before, we have had turf thumpers, rootzone resistance probes and wear simulators that are all gathering dust in a shed in Yorkshire somewhere.
It is a bit like all those kitchen devices that you have purchased over the years as labour saving devices that are now gathering dust in the back of a cupboard, while you carry on peeling the spuds and hand washing the salad.
So if the boffins of Bingley have their way you will have a Stimpmeter reading of 11.5, a Truemeter reading of 22.4 and an impact reading of 54.2, you will be able to safely and without question be able to say that your greens are true and firm!
Now I don't want to get branded as a Luddite here, no a practical realist will do for me. What we really have here is an old debate, is greenkeeping and art or a science, in my opinion it is an art that is poorly served by science, so it will be forever an art.
Oh well while the meters and testers are trundling around the greens of this country, trying to establish what firm and true means, the course managers will just get on with getting the results.