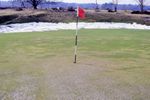 With the weather forecasters looking eagerly to the East at the moment (they love a bit of real weather), it looks like the cold winter (for England anyway) is set to continue, so I though I would drop in a few notes on golf and frost.
In an ideal world the simple rule would be, if it is frozen don't play on it. The problem is greenkeeping, a job that could possibly be the best job in the world, is spoiled by golfers so simple rules do not apply. Just take a look at the set of rules that are needed to play the game!

The technical side of what constitutes a frost and how frost affects the grass plant is a long post in itself, so here is a simple explanation from the GCSAA's website. If you go over there for the technicalities make sure you come back here for the practicalities!
Thankfully managing frozen turf is not something that we have to encounter too often maybe 10 to 20 mornings per winter depending where you are in the country. I say mornings because it is not often that a frost last all day, well in the warmer South anyway. Things though have been different so far this winter. Late December and early January have seen temperatures of –12 oC in the South and 15 days consecutive days of frost.
Managing frosty members
Managing frosty conditions is more about managing your membership and visitor expectations. Unfortunately as there are no set rules one club will have a different policy to a club just up the road. Private membership clubs can be more understanding of the damage play in frost conditions can cause than a proprietary club with greater financial pressures. Of course these income driven pressures tend to have short-term thinking attached to them. If real plant structure damage is done in frosts, like root shearing or crown damage, then the cost of renovation coupled with the loss of greenfee revenue, due to poor surfaces in the spring, outweighs the income gained by opening the course or playing on the greens in a frost. It is not rocket science, the number of players who want to play on frost in January are far less than those who want to play on good greens on a mild spring day in early April.
A propriety club I consult to were closed for nine days straight earlier this month due to the severe frosts, a hard financial decision to take but without any doubt the right one. It is often difficult to have just one policy on dealing with course closure in times of frost, as the type and severity of frosts are so different. Also the most dangerous time is when frost is leaving the ground and the top say 12mm is thawed out making the greens look playable to the membership.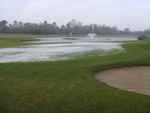 Of course the decision should be left to the professional employed to manage the turf, and that is not the golf professional! The best advice I can give is to have a plan for how you are going to deal with frost by at least September so that you can prepare the management and membership in advance. Anyway if you are going to provide frost greens you need to start preparing them in the autumn.
Cold Comfort
For your own comfort draw up your frost policy options, let the club know what they are, agree them and stick to them.
Options to consider
1) Temporary greens cut out of fairways or existing approaches
If you have very thatchy greens, or greens with poor rootzone drainage that hold water in winter, you may well have to prepare these anyway so obviously use them in times of frost.
KMgc view: Sort out the drainage problems and get the greens playable enough that you don't require temporary greens. My view is that if you are preparing temporary greens at the end of the summer your members and visitors are being psychologically damaged! There is no getting away from it temporary greens (unless for renovation purposes) are a sign of poor grenkeeping or lack of correct investment.
2) Frost holes cut on the front of greens. If you have to have them move them often to cut down on wear.
KMgc view: The green is the green is the green. If there is risk of any frost damage why are you on them at all?
3) Set course inspection times and provide opening time expectations
These should be based on your experience and knowledge of how long a frost is going to last.
KMgc view: A must, this is what a Course manager is paid for, knowledge, experience and decision making.
4) If it is frozen we don't open
KMgc view: A concise decision that members and visitors will get to know and respect as long as it is backed up with agronomic facts that they are made aware of.
Whatever options you chose have a plan and don't get frozen out. Watch out for that frost and snow this weekend, and if you have a hill on your golf course I would let the members ski on it instead!