BTME Harrogate Product Review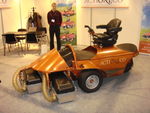 Metallic orange is the new green, take a close look at it (left click on the pic). It doesn't have a name other than Actioneco, which I think is the company name and not the machine name, a marketing faux pas if ever I saw one. There is however no denying that it makes you look, I am sure many of the visitors to BTME said what **** is that.
Well it is a pre-production greens triple mower powered by li-ion battery with AC servo drive and electronic control, so, no smelly fossil power here, and no hydraulics. Grass clippings are sucked up and are blown out of one side when emptying, so no tiresome emptying of boxes (catchers). It has an electronic height adjustment, operated from the joystick position, from 3mm to 50mm with 0.1mm accuracy, yes that what they say. This means that it can be used for greens, tees, surrounds and approaches. It might get a bit knackered though!
It is from what must be the most eco-friendly country in the world Finland, and is obviously pitched at those who truly want to be sustainable. In Finland it is plugged into a wind turbine for recharging and it costs one euro per charge, which lasts 8 operating hours. There may well be great cost saving for the smaller clubs who want to multi-task their machinery and save on running costs as well.
It would be very interesting to see the machine (I wish it had a marketable name) in action. Actually as I feel a bit like Jeremy Clarkson at the moment may be the good people at Actioneco would like me to have on trial for a week!
Will it sell, will it hell, well when freezes over anyway. Actually that may not be long if we carry on sucking the life out of the planet, so get out there and buy three!