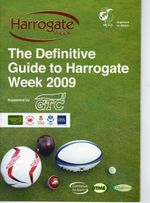 Comment from Harrogate week – BTME, Clubhouse & Continue to Learn Latest news update from the BIGGA's annual turfest Harrogate Week. I was planning to update my blog from the show each day, but as usual long discussions on golf course maintenance issues have got in the way. Of course all this talk makes you hoarse so lubrication of the vocal chords is also vital and time consuming!
First impressions, well it seemed to be quieter than usual on Tuesday and heaving yesterday. As expected all the talk is of the economic downturn and how incomes, budgets and jobs are going to be affected. There are worrying stories from Ireland of clubs shutting down and others putting greenstaff on a three-day week. Many clubs in the UK are experiencing membership non-renewals with reports of 40 to 50 memberships being lost. I have no doubt that once the spring renewal period is over there will be even higher losses than this.
Most Course Managers I have spoken to are facing up to lower operational budgets this year, with the larger construction, remodelling, drainage and irrigation projects being postponed. Of course there are always exceptions to the rule, Kenny Mackay and The Belfry being one of those. Kenny was quietly planning the next stage of capital improvements to his courses for this year. As ever if you have a strong product and good market placement you are more likely to have financial strength, using this financial strength to invest further in your brand and product in a shrinking market leaves you well placed to grow further when the economic upturn arrives. An even more dramatic example of this would be The Wentworth clubs remodelling of the green complexes on the West course.
If you apply this thinking to yourself and invest in you, then you will also reap the rewards when the economy expands. I am talking about education, if we want to keep our jobs, or even gain better ones we should learn more. One thing I was very impressed with at Harrogate was how many were attending the educational programmes and seminars. These enlightened people are, as much as is possible, securing their futures in difficult times.
To illustrate this I want to give mention to Peter Todd the Golf Courses Manager at London Golf Club. I meet Peter many moons ago during the development of the London Club and have not seen him since, I was most impressed with him, educated, a great communicator with an open mind. I am a bit embarrassed to say this, but before Harrogate I had no idea that he was going to be the next Chairman of the BIGGA. All I can say is what a great move this was by who ever nominated him, he will be a great ambassador for the profession.
So what of the show, well there were some interesting products that stood out for me as they were not 'me too' products or 'elixirs' for better turf. I will expand on these in future post:
1) The R&A's benchmarking tool
2) Actioneco's ecologically powered greens triple mower
3) Joshua Drilling's soil profiling tool
4) Weather for Golf a weather forecasting service
Also notes to myself on blog posts for the near future: 1) BIGGA smaller – The association in the shrinking economy 2) Turf going to seed – notes inspired by The Wentworth Club