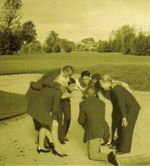 What we need is a golf course consultant
I wonder how many times these words have been uttered in golf club 'spike bars' up and down the country over the last thirty years. It must be in the thousands by now. They many not have been as specific as that but along the same theme. "What we need is a new greenkeeper" (will be number one), a second opinion, someone who knows what they are doing, a qualified expert, a consultant, will be others.
Of course this is barrack room lawyer speak but at some point, and from time to time, the word of the masses, or is it just the loudest, reaches the golf club committee room, where they will be obliged to ask 'do we need a consultant?'
Thankfully not all golf clubs operate in this way and it is often the case that a Course Manger/Head Greenkeeper asks to gain a second opinion on something he has not encountered before. Or the management board agree along with the employed expert to 'consult'.
How much is a golf course consultant going to cost us?
This is normally the next question asked. Oh I can hear it all now!
Well I am going to avoid the 'how long is a piece of string answer' and provide some ballpark figures.
In the UK typically between £400 and £800 a day for a one-day course visit and a report. Around £600 seems to be the going rate. Of course this is useless information because you don't know how in-depth the consultants investigations are going to be. You have no idea weather one visit or monthly visits are required or weather that £600, for one day of your courses 365, is going to be well spent.
Yes consultants cost money! However a good one cost you less than poor one! So how you go about getting a good one?
Six questions to ask yourself when selecting a golf course consultant
* Identify the correct need. This sounds obvious but I have seen greens that waterlogged in winter have extensive drainage installed, when the real problem was 75mm of thatch overlying a reasonably free draining rootzone. "Considered deduction equals cost reduction"
* What is the consultant's specialist area of expertise? The above problem needed a golf agronomist first not a drainage consultant
* Do they have relevant industry knowledge? You want a golf course consultant so ensure you employ one who has worked in and knows the golf course management industry
* Will they be able to work with you? Other than expertise the most important attribute any consultant must have is the ability to listen and observe. Check for these personal skills at interview. The client/consultant relationship is the vital element in problem solving success.
* Can the consultant work within your culture? If you operate a proprietary club you will want to ensure that the consultant accounts for your P&L when recommending solutions. If you are looking for mentoring help you will want to ensure that you can build a relationship with the consultant.
* Is the consultant independent? Unfortunately not all golf course consultants or advisor's offer unbiased or independent advice. Ensure that they are not going to have other motives behind their recommendations
Short-term or long haul?
Consultancy can provide short-term 'quick fixes' and long-term target objectivity. As a Course Manager you may have a specific problem that you could fix if you could only identify it. For example, you may be a few mystery brown patches in your greens, that might be anthracnose or root knot nematode but you are not sure which so you would go to someone like Dr Kate Entwistle for identification of the problem and advise. This type of quick consultation is very valuable a can save you from embarrassing explanation to the powers that be in the middle of August. However these quick fixes are often covering up longer-term issues that need more in-depth investigation. This is when the consultative assistance of someone who has wider 'on the ground' experience is of greater benefit.
You may have a mission to rid your greens of Poa annua (Annual Meadow Grass) in favour of Bent/fescue. This would be a long-term objective that should be written into a Golf Course Management Policy document. When you have such specific agronomic and environmental aims in mind for the long-term, a golf course consultant is a great person to have on your team. A good one ensures that you are technically and practically backed up and fully supported in striving for first class playing surfaces. Just ensure the consultant you employ is going to be with you in this mission all the way.
Lastly remember the golf course consultant's role is to work their way out of a job!